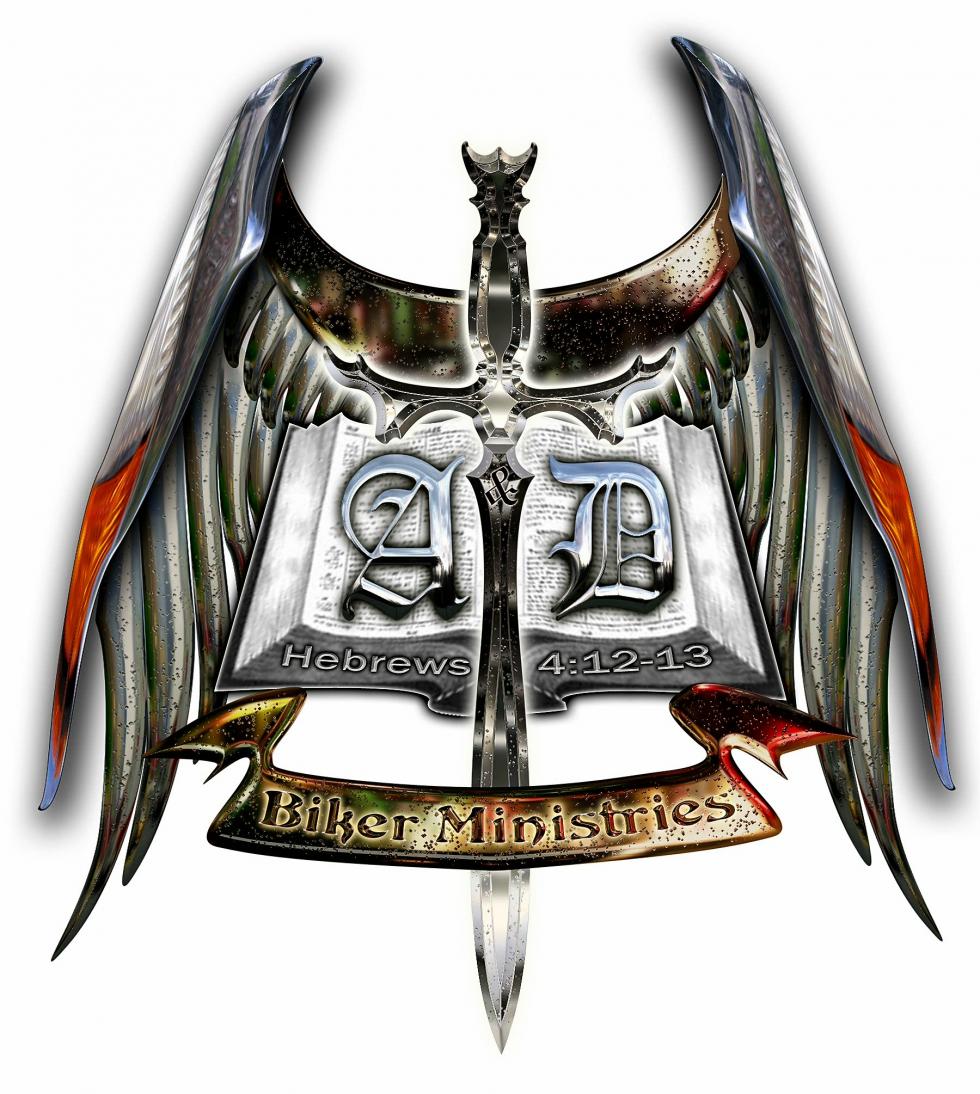 Sermons
May 18, 2019
"TRUE BIBLICAL ELDERSHIP"
(Part 3)
The A&D congregation was blessed to have Pastor Jeff Talbert, from Westosha Lakes Church, preach in our worship service this evening. Jeff brought a wonderful message from God's Word concerning God's creative purpose for both men and women . . . which is to serve, in Jesus' name! (This was the third sermon in this mini-series of "True Biblical Eldership.")
We do not have a manuscript of Jeff's sermon to post here on our website, but you can watch the full sermon on the A&D Facebook page (as seen / recorded on Facebook Live) at facebook.com/adbikerministries1 .
I encourage everyone to view this important & Biblical message! - DOC -
May 11, 2019
"TRUE BIBLICAL ELDERSHIP"
(Part 2)
The church is under the leadership of Jesus . . . and Biblical Eldership promotes the preeminence of Christ within the local church. Jesus alone is Ruler, Head, Lord, Master, High Priest, and King. (May God help us to always point people to Jesus, and not to ourselves - which is our natural tendency!)
True Biblical Eldership also promotes the protection and sanctification of the spiritual leaders, in two extremely significant ways:
1) Eldership provides necessary accountability and protection from particular sins that plague leaders - like pride, greed, and the temptation to "play God."
2) The eldership structure gives peer relationships and balances for each other's weaknesses. Thus, Biblical eldership promotes each individual leader's personal sanctification.
We are Bible-believing Christians. If there is anyone who should understand the importance of accountability, it should be us!
Because of our biblical beliefs, in the realities of sin and human depravity, we should understand very well why people in positions of leadership are easily corrupted. We know how corrupting and deceitful sin is. We also know how easily we are distorted and perverted by power, authority, money, fame, and status.
Jesus knew this. That's why he taught humility. It's why he washed the disciples' feet and knelt down before them as an example. He said, "Now you've seen my example. You do that to one another." (Serve one another, even in the most humble ways.)
To have authentic, real accountability - we have to want it. We have to see the need for it, scripturally, and see how weak we really are - and how easily we are tricked into sin by the devil.
One of the great joys in my life of ministry has been peer relationships with other men . . . those who are partners in the work of God. In accountability, we balance one another, sharpen one another, comfort one another, protect one another, strengthen one another, pastor one another, and pray for one another. MEN - a healthy relationship with other men is important, very important to your spiritual health!
You know the two great things that God has used in my life to sanctify me and make me a better leader? My wife, and pastor elders!
God wants us to learn to listen to other people and to learn to welcome correction. That's part of our sanctification in Christ. If you want to be more like Jesus, then listen to your brothers and sisters, listen to their criticism, listen to their statements that reveal who you really are. We need one another.
So, what I'm saying is that true biblical eldership harmonizes with AND promotes - the theology of the church, the mission of the church, and the character of the church.
Well, we've looked at biblical eldership in Scripture, but how do we define it?
Biblical Eldership means pastoral care by a plurality of qualified Elders.
Notice the word qualified. Many people think of an Elder Board as some committee running the church. The Bible is not talking about a committee. It's talking about a council of Holy Spirit-appointed, qualified, functioning pastor elders!
The general New Testament concept of eldership is this: pastoral care.
Acts 20:28
Pay careful attention to yourselves [elders] and to all the flock, in which the Holy Spirit has made you overseers, to care for (literally shepherd) the church of God, which he obtained with his own blood.
1 Peter 5:1-2
So I exhort the elders among you, as a fellow elder and a witness of the sufferings of Christ, as well as a partaker in the glory that is going to be revealed: shepherd the flock of God that is among you, exercising oversight.
NOTICE - Elders are to shepherd / pastor God's flock!
Definition of true Biblical Eldership: Biblical eldership is pastoral leadership of the local church by a counsel of qualified, Holy Spirit-appointed men.
Equality AND Diversity Within The Eldership
1 Timothy 5:17-18 (NIV)
17 The elders who direct the affairs of the church well are worthy of double honor, especially those whose work is preaching and teaching. 18 For Scripture says, "Do not muzzle an ox while it is treading out the grain," and "The worker deserves his wages."
In a biblical eldership, there is both equality among the elders and diversity in giftedness & prominence.
ALL elders are called to shepherd the church. ALL are called to be able to teach. ALL are called to be able to protect the church from false teachers.
These points emphasize the equality side of biblical eldership, but there is diversity side, also . . . NOT all elders are Spirit-gifted teachers or leaders (see Romans 12:8 and Ephesians 4:11).
So, among the elders there's diversity of giftedness, and there's a diversity of experience and knowledge. Each elder will contribute his particular interests, gifts, and available time.
In this area of Biblical Eldership, the Protestant Church has gone to two extremes over the years:
One extreme is to make one gifted leader or teacher the priest / the senior pastor / the grand Poo Bah anointed one / the one who alone can bless and preach and administer the sacraments.
Another extreme is to overemphasize a complete and total equality among the elders - and not allow for special giftedness, calling, or function. (You know, everyone is just "cookie cutter" and no one is utilizing their spiritual gifts from God of in leadership.
The correct and true biblical balance to equality & diversity among the Elders is clearly seen in the example of the twelve apostles.
The concept of Eldership (the biblical concept), is shepherding / pastoring. Elders are to shepherd the flock of God (the congregation) . . . NOT be boards!
New Testament Qualifications For Elders
You cannot define Biblical Eldership without looking at the qualifications. The qualifications tell us a lot about who the elders are and what they do.
A. HOLY Spirit-Given Desire
Acts 20:28
Pay careful attention to yourselves and to all the flock, in which the Holy Spirit has made you overseers, to care for [shepherd] the church of God, which he obtained with his own blood.
The only elders we should want at A&D are elders who are Holy Spirit-led. Their desire to be a pastor elder is generated by the Holy Spirit . . . he gives them the motivation to do this work. The Holy Spirit gives the strength, the love, the desire, and the energy. It wasn't Paul who picked the elders, and it wasn't the church who picked the elders. Paul says (and he's using this as motivation for them), it was the Holy Spirit. He placed you in the church as overseers.
1 Timothy 3:1
The saying is trustworthy: If anyone aspires to the office of overseer [elder], he desires a noble task.
We are talking about the starting point. How do you become an elder? Well, it starts with a Spirit-given desire.
And, if you have that desire (Paul is saying and the early Christians are saying), this is a good thing. They are encouraging the desire - but remember, it's generated by the Holy Spirit.
So, we want people who have a Spirit-given desire, a passion, an urging, a leading from the Holy Spirit to do this job.
B. Objective Biblical Qualifications
Desire is the starting point . . . but you can have wrong a desire. It could be for selfish reasons. Some people want to dominate other people. Some people are totally deceived about themselves: they think they're a leader, and they are not a leader. They think they're a teacher or some intellectual, and they are not. So, desire must be matched by objective qualifications.
God's Word is a catalog of qualifications for those who would be elders . . . and we must take those qualifications seriously.
1 Timothy 3:1-7 is central for these qualifications:
1 Timothy 3:1-7 (AMP)
1 This is a faithful and trustworthy saying: if any man [eagerly] seeks the office of overseer (elder), he desires an excellent task. 2 Now an overseer must be blameless and beyond reproach, the husband of one wife, self-controlled, sensible, respectable, hospitable, able to teach, 3 not addicted to wine, not a bully nor quick tempered and hot-headed, but gentle and considerate, free from the love of money [not greedy for wealth and its inherent power - financially ethical]. 4 He must manage his own household well, keeping his children under control with all dignity [keeping them respectful and well-behaved] 5 (for if a man does not know how to manage his own household, how will he take care of the church of God?), 6 and He must not be a new convert, so that he will not [behave stupidly and] become conceited [by appointment to this high office] and fall into the [same] condemnation incurred by the devil [for his arrogance and pride]. 7 And he must have a good reputation and be well thought of by those outside the church, so that he will not be discredited and fall into the devil's trap.
(Pastor Jeff Talbert, from Westosha Lakes Church, will be preaching for us here next Saturday - and this is part of what he will talk about then!)
C. CAREFUL EXAMINATION
The qualifications for an elder are just words on a piece of paper, IF we do not examine the person as to the biblical requirements. This means asking a lot of questions, and training, and reviewing one's lifestyle . . . as well as looking at their doctrine.
A very significant part of biblical eldership is that candidates have been thoroughly examined as to their fitness for office. In fact, Paul says here in the text, "if they prove themselves blameless" as to the qualifications. Let's not neglect this important part of eldership. When unfit, unworthy, unscriptural men become elders, they create years of problems for the church.
1 Timothy 3:10
And let them also be tested [examined] first, then let them serve.
D. Public AFFIRMATION
After a person has been examined and approved to be an elder, then there is to be public confirmation and appointment. (Well, we do that part right!)
What does the New Testament say about the Roles of Pastor Elders?
1) Lead the Church in Shepherding
One thing about shepherding real sheep, is that sheep have no sense of direction. They get lost very easily. So they need to be led. The term "shepherd" often means lead or govern. Words like overseer or oversight, imply leading.
Elders are God's household managers . . . and that means leadership. Elders may be good men, but if they are not leading the flock, the church is not going anywhere. The same old problems will be repeated year after year. The vision of the church will not be fresh. There will be no new ideas, and old issues and problems will not be addressed.
Leaders are called to lead, and they should lead with diligence. As the Scripture says:
Romans 12:8
The one who exhorts, in his exhortation; the one who contributes, in generosity; the one who leads, with zeal; the one who does acts of mercy, with cheerfulness.
In other words, put yourself wholeheartedly into your leadership activities! Don't be passive!!
The whole eldership is a leadership body, but among the elders, some elders will have the gift of leadership. (I'm sure you know, people who can motivate others, set vision, address problems, confront issues, organize, etc.!)
Every elder contributes his own special gifts and abilities to the leadership body!
2) Lead the Church in good Communication
Many elders think they're communicating with the congregation, and they're not. The congregation doesn't have a clue what they're doing or thinking. Elder Pastors need to think of creative ways to communicate better.
3) Set Vision
Jesus Christ gave us the Great Commission in Matthew 28:19-20. We have a message for the world. Elders are to help the church have a global vision / a world missions vision.
4) Hold People Accountable
Hold people accountable for their ministries and train them for those ministries.
Elders are NOT to do everything. It's not their job to do every ministry in the church. According to Ephesians 4:12, all the saints are to be active in the work of ministry, not just the leaders.
Elders who are Holy Spirit-gifted teachers or shepherds are "to equip the saints for the work of ministry" (Ephesians 4:12).
They are also to delegate ministry tasks to others in the church, and to hold them accountable for their ministry responsibilities.
5) Care for the Congregation
This is the practical side of shepherding. Sheep get disease; they get sick; they get old; they die; they have newborn sheep. ALL of these needs must be cared for.
James 5:14-15
Is anyone among you sick? Let him call for the elders of the church, and let them pray over him, anointing him with oil in the name of the Lord. And the prayer of faith will save the one who is sick, and the Lord will raise him up. And if he has committed sins, he will be forgiven.
Pray for people. Help the weak. Counsel, encourage and comfort during difficult times - in marriages and in families and in individuals. People who cannot provide for themselves should be cared for and provided for by the church and its leaders. The church must be a caring place.
What a wonderful thing for people to say, "Our elders are praying elders. Our elders care for the flock. Our elders are setting out world vision and mission before us."
1 Peter 5:2
Shepherd the flock of God that is among you.
May 4, 2019
"TRUE BIBLICAL ELDERSHIP"
(Part 1)
The Elders at A&D Biker Ministries are in the middle of a painfully wonderful struggle to understand what it means to be an ELDER - according to the Bible. We are working through Alexander Strauch's book, Biblical Eldership, and for the next few weeks we will be expanding our Experiencing God sermon series to share with you our Elders' journey.
After all, our Elders are hearing from God, as he reveals himself in his Word. And to a man, we hear God inviting us to join him in HIS plan and purpose of True Biblical Eldership within A&D Biker Ministries! Answering God's call will both significantly affect our church, and positively impact God's Kingdom. So, we invite you into our journey of True Biblical Eldership.
Titus 1:5-6 (NIV)
5 The reason I left you in Crete was that you might put in order what was left unfinished and appoint elders in every town, as I directed you. 6 An elder must be . . .
Paul wrote these words, because he was very interested in the subject of eldership. Part of Paul's strategy for instructing his churches and correcting problems was to write letters, and these divinely inspired letters have a permanence with us today.
In these verses, Paul is saying that a church without qualified elders is deficient! And the problem today is that too many churches suffer the loss of the New Testament teaching on Eldership.
Many churches do have elders, because the Scripture teaches it, but . . . they don't have biblical eldership. (Sadly, we have been guilty of that. We have an Elder Board - but we've not been biblical elders.) Most people think of elders as: administrators, advisors, finance guys, policy makers, fund raisers, counsel to the pastor, etc. That is not being a biblical elder!
Biblical eldership is pastoral eldership - not a board of boring people who are just temporarily leading and making policies for the church!
So, the solution to our problem is to return to the New Testament teaching of BIBLICAL ELDERSHIP!
We see this pattern in the Old and New Testaments, when God's people would drift away from God's teachings (in the Bible) and their journey with the Lord would fall apart. Every time, they needed to be corrected / recover God's plan / and be revived!
In the 16th century Reformation, the truth of the gospel had to be recovered, and Scripture's place of authority had to be brought back to life.
Listen to this powerful quote:
Dr. S. Lewis Johnson, once a professor at Dallas Seminary and Trinity Evangelical Divinity School, said: "In every generation, we need an enlightened purification of our traditions."
In too many churches, the Bible doesn't rule . . . tradition does! Christians are not really "people of The Book" as they profess to be, if man-made traditions and cultural shifts trump God's Word.
A French historian of the Reformation, who's name I can't pronounce (Merle d'Aubigne), wrote these words. THINK ABOUT THEM: "As we advance through the centuries, light and life begin to decrease in the church. Why? Because the torch of the Scripture begins to grow dim and because the deceitful light of human authorities begins to replace it."
Otto Riecher wrote - "The life of the church depends on one thing: her return to biblical principles." And that's what we are involved with right now in Experiencing God . . . a return to Scripture and God's principles!
Our #1 Core Value at A&D is that God's Word (the Bible) is the final authority for our life. That means, the Bible is the standard for checking our traditions as well as our church practices . . . and for constantly evaluating ourselves:
2 Timothy 3:16-17 (AMP)
16 All Scripture is God-breathed [given by divine inspiration] and is profitable for instruction, for conviction [of sin], for correction [of error and restoration to obedience], for training in righteousness [learning to live in conformity to God's will, both publicly and privately - behaving honorably with personal integrity and moral courage]; 17 so that man and woman and child of God may be complete and proficient, outfitted and thoroughly equipped for every good work.
May God help us to be competent to correct our own failures and faults, AND to implement the truths of his Word into our church Pastoral Eldership!
OK. So what does the Bible say, exactly, about this whole business of Eldership?
God's people / churches in the Bible have always had their elders. In the Old Testament, over 100 times Israel's elders are talked about in representing the people. The OT was all about government by the plurality of elders (that is, multiple shepherd / leaders - called Elders).
(Some of the problem may be that we don't know the Old Testament, or the history of Israel, very well. And to understand New Testament eldership, you have to start in the Old Testament and see the significant place elders had in the history of God's people.)
Jesus Christ established plurality of leadership for his Church! This is a very interesting fact. Jesus never appointed one man over his church. He never trained just one man. He trained twelve men, and he trained them together. He appointed twelve men to be the foundation / the first leadership body of the church of his Church. Jesus HIMSELF gave us plurality of leadership!
Although he trained and commissioned twelve men, among the twelve apostles, there were first ones among equals (Peter, James and John) or a first one among equals (Peter). This means that among the 12 apostles there were the three: Peter, James, and John. Some of the other apostles, we know almost nothing about them. And among the 12 apostles, Peter stands out as the mouthpiece of the group. He was the natural leader.
Peter was the natural leader in the group; however, the other eleven men were NOT his assistants. They were not his advisers. They were all equally apostles; all equally sent out to preach; and all equally shared apostle (elder) authority.
But the twelve apostles were not equal in their giftedness or their prominence. This is something we must understand, in order to understand eldership, because Jesus gave it to us. We call this "first among equals."
Also, Jesus gave them a unique style of leadership. We call it "servant leadership." He taught them the virtues of humility (he washed their feet). He taught them about forgiveness; he taught them that they were to love one another as he had loved them; etc.
The New Testament teaches Pastoral Leadership by the Plurality of Elders.
In its major features, pastoral oversight of the local church by a plurality of elders is plainly set forth by the New Testament writers. It's a consistent pattern throughout the New Testament. Did you know that the New Testament gives more instruction about elders than it does about the sabbath, the Lord's Supper, baptism, or spiritual gifts?
Examples of Eldership - There were elders in the churches of Judea and surrounding area; there were elders in the church in Jerusalem; a plurality of elders was established in ALL of the churches that Paul started; and, in the NT book of 1 Peter - Peter talks about the elders in several churches. We see eldership as a pattern throughout all these churches.
Not only does the New Testament provide a consistent example of elders, but there's explicit instruction to the churches about how to support elders, protect elders, restore elders, discipline elders, select elders, call elders, etc.
James instructs those who are sick to "call the elders of the church for prayer." Paul instructs the Ephesian church to financially support the elders who are laboring at preaching and teaching (those who are the first among equals).
Paul instructs the local church to protect their elders from false accusations. He instructs the church to properly look for qualified men and to examine those who seek eldership. He states that the elders are God's household stewards, leaders, teachers, and overseers.
The Bible gives us examples of elders, instructions to the church about elders, and commands to elders.
Paul reminds the Ephesian elders that the Holy Spirit himself placed them in the church to be overseers and to pastor the church of God:
Acts 20:28 (NIV)
Keep watch over yourselves and all the flock of which the Holy Spirit has made you overseers. Be shepherds of the church of God, which he bought with his own blood.
Writing to elders throughout all Asia Minor, Peter charges them:
1 Peter 5:2
(NIV)
Be shepherds of God's flock that is under your care, watching over them - not because you must, but because you are willing, as God wants you to be; not pursuing dishonest gain, but eager to serve.
Paul wrote to Titus:
Titus 1:5 (NIV)
The reason I left you in Crete was that you might put in order what was left unfinished and appoint elders in every town, as I directed you.
Notice here that a church without qualified elders is a church that needs to be set in order - it's deficient.
At the beginning of Paul's ministry, and at the end of his ministry, he appointed elders. We believe that is because a properly constituted church has qualified and functioning pastor elders.
This is what the Scripture teaches! God knows what is best for his people. We either follow his directions and instructions for his church . . . or not.
WE, AS PASTOR ELDERS OF A&D BIKER MINISTRIES, WANT TO OBEY GOD'S WAY!
We also believe that Biblical Eldership promotes the true nature of the Church, its mission, and its theology.
We know that the Church is a close knit family of brothers and sisters in Christ. The Greek word is ekklesia - meaning church, congregation, gathering, assembly. But, one word cannot explain the multi-dimensional nature of the church. So, the biblical writers use many metaphors, images, such as the body, the bride, the temple, the flock.
One of the most frequently used metaphors for the church is that of the family - brothers and sisters. Or, the larger concept - the family of God. It's real. We are God's family!
Now, pastor eldership is a form of government that harmonizes beautifully with the family nature of the church.
The New Testament does NOT have special, exalted titles or clothes or seats or special platforms for their leaders. It's simply: overseer, elder, leader.
When a NT local church would look back at its heritage (the people of God in the OT), it saw a form of government that matched perfectly a family - and that was eldership. As an extended family, eldership fits with what the church is.
The Church is a family and a community of servants. The more I read, I'm convinced that the elder system of government matches the virtues that Jesus taught his disciples: humility, servanthood, and love.
Biblical Eldership promotes these virtues. In order for eldership to operate effectively, the elders have to show mutual regard for one another. They have to submit one to another, and they have to patiently wait on one another. (These are very difficult things for alpha males to do!)
But, doesn't this sound like Philippians 2?
Philippians 2:5-7 (NLT)
5 You must have the same attitude that Christ Jesus had. 6 Though he was God, he did not think of equality with God as something to cling to. 7 Instead, he gave up his divine privileges; he took the humble position of a servant and was born as a human being.
Humility and servanthood - qualities that mark the church as a community of God's people. In fact, you could say that ELDERSHIP is sort of a microcosm of how the whole church should operate!
OK. God willing, we'll continue this study on True Biblical Eldership next week . . .
April 27, 2019
"THE WAY GOD SPEAKS"
SERMON #6 in a sermon series on Henry Blackaby's, Experiencing God
Hebrews 1:1-2
(NLT)
1 Long ago God spoke many times and in many ways to our ancestors through the prophets. 2 And now in these final days, he has spoken to us through his Son. God promised everything to the Son as an inheritance, and through the Son he created the universe.
In this scripture it says that in times past God spoke in various ways. In the Old Testament, we find that God spoke . . .
. . . but, how God spoke is not nearly as important as the fact that He spoke! Let's look, again today, at one occasion when God spoke to one of his children, Moses, in Exodus 3.
Exodus 3:1-22
(NLT)
1 One day Moses was tending the flock of his father-in-law, Jethro, the priest of Midian. He led the flock far into the wilderness and came to Sinai, the mountain of God. 2 There the angel of the Lord appeared to him in a blazing fire from the middle of a bush. Moses stared in amazement. Though the bush was engulfed in flames, it didn't burn up. 3 "This is amazing," Moses said to himself. "Why isn't that bush burning up? I must go see it." 4 When the Lord saw Moses coming to take a closer look, God called to him from the middle of the bush, "Moses! Moses!" "Here I am!" Moses replied. 5 "Do not come any closer," the Lord warned. "Take off your sandals, for you are standing on holy ground. 6 I am the God of your father - the God of Abraham, the God of Isaac, and the God of Jacob." When Moses heard this, he covered his face because he was afraid to look at God. 7 Then the Lord told him, "I have certainly seen the oppression of my people in Egypt. I have heard their cries of distress because of their harsh slave drivers. Yes, I am aware of their suffering. 8 So I have come down to rescue them from the power of the Egyptians and lead them out of Egypt into their own fertile and spacious land. It is a land flowing with milk and honey - the land where the Canaanites, Hittites, Amorites, Perizzites, Hivites, and Jebusites now live. 9 Look! The cry of the people of Israel has reached me, and I have seen how harshly the Egyptians abuse them. 10 Now go, for I am sending you to Pharaoh. You must lead my people Israel out of Egypt." 11 But Moses protested to God, "Who am I to appear before Pharaoh? Who am I to lead the people of Israel out of Egypt?" 12 God answered, "I will be with you. And this is your sign that I am the one who has sent you: When you have brought the people out of Egypt, you will worship God at this very mountain." 13 But Moses protested, "If I go to the people of Israel and tell them, 'The God of your ancestors has sent me to you,' they will ask me, 'What is his name?' Then what should I tell them?" 14 God replied to Moses, "I am who I am. Say this to the people of Israel: I am has sent me to you." 15 God also said to Moses, "Say this to the people of Israel: Yahweh, the God of your ancestors - the God of Abraham, the God of Isaac, and the God of Jacob - has sent me to you. This is my eternal name, my name to remember for all generations. 16 Now go and call together all the elders of Israel. Tell them, 'Yahweh, the God of your ancestors - the God of Abraham, Isaac, and Jacob - has appeared to me. He told me, "I have been watching closely, and I see how the Egyptians are treating you. 17 I have promised to rescue you from your oppression in Egypt. I will lead you to a land flowing with milk and honey - the land where the Canaanites, Hittites, Amorites, Perizzites, Hivites, and Jebusites now live.' 18 The elders of Israel will accept your message. Then you and the elders must go to the king of Egypt and tell him, 'The Lord, the God of the Hebrews, has met with us. So please let us take a three-day journey into the wilderness to offer sacrifices to the Lord, our God.' 19 But I know that the king of Egypt will not let you go unless a mighty hand forces him. 20 So I will raise my hand and strike the Egyptians, performing all kinds of miracles among them. Then at last he will let you go. 21 And I will cause the Egyptians to look favorably on you. They will give you gifts when you go so you will not leave empty-handed. 22 Every Israelite woman will ask for articles of silver and gold and fine clothing from her Egyptian neighbors and from the foreign women in their houses. You will dress your sons and daughters with these, stripping the Egyptians of their wealth."
We need to see today 4 important facts about the way God speaks.
1. When God speaks it is usually unique to that individual
Moses had no precedent for a burning bush experience. He couldn't say, "Oh cool, this is my burning bush experience! Abraham, Isaac, and Jacob all had theirs, and THIS ONE is mine."
Moses' experience was unique & God wants our experience with him and his voice, to be uniquely personal to us, also.
If Moses was alive today, he might be tempted to write a book, My Burning Bush Experience And How You Can Have One, Too! And, everyone would be reading it and looking for their "burning bush" experience.
But, we must NOT get hung up on imitating the experiences of people mentioned in the Bible! Instead, we must learn that God did speak then and he still desires to speak to us today.
2. When God speaks we can be sure it is God speaking
The Scripture tells us that when God spoke to Moses through the burning bush, he had NO question about the fact that God was the one speaking. In the same way, it is possible for us to recognize the voice of God!
John 10:4 (NLV)
When the shepherd walks ahead of them,
they follow him because they know his voice.
Do you have trouble perceiving God's voice?
In Luke chapter 11, Jesus speaks about the key to spiritual perception. Having just spoken about the spiritual blindness of his generation in (vs. 29-32), Jesus speaks to the question of whose fault it is when there is a lack of spiritual perception. He teaches us that the key to spiritual perception is a heart that is pure.
Luke 11:33-36 (NIV)
33 "No one lights a lamp and puts it in a place where it will be hidden, or under a bowl. Instead they put it on its stand, so that those who come in may see the light. 34 Your eye is the lamp of your body. When your eyes are healthy, your whole body also is full of light. But when they are unhealthy, your body also is full of darkness. 35 See to it, then, that the light within you is not darkness. 36 Therefore, if your whole body is full of light, and no part of it dark, it will be just as full of light as when a lamp shines its light on you."
Jesus also said:
Matthew 5:8 (NIV)
"Blessed are the pure in heart, for they will see God."
In the Luke 11 passage, Jesus tells us that a lack of spiritual perception is not God's fault (v. 33). One of the purposes of light is to help us find our way in the dark. Therefore, to light a dark room, you place a lamp in a place of prominence - on a table / lamp stand - so that it provides as much light as possible.
The point here is that when it comes to God revealing himself to us . . . God does NOT hide from us. He works to reveal himself to us!
Jesus also tells us that a lack of spiritual perception is our fault (vs. 34-36). He says that our eyes work to help us maneuver about. By deciphering the various images of light that bombard them, our eyes help us know how to get around in this world. If, however, our eyes go bad, then everything goes dark and we are left to stumble about.
Jesus goes on to speak of one's heart ("the light within you" - v. 35) as being the way in which we discern spiritual light. If, however, our hearts have become darkened, then we're left without spiritual perception . . . and all we can do is wander in spiritual darkness.
So, just how does this spiritual darkness / hardness develop? It develops from time after time of choosing to not walk in the light we have received. God has established this law in the universe which governs our spiritual state: "Do not be deceived, God cannot be mocked."
We will reap what we sow! If you sow rejection of God's light, you will reap spiritual blindness; but if you sow reception of God's light, you will reap spiritual perception.
If you travel in your car or on your bike at night, with the headlights on, they only shine so far in front of you. But, they shine far enough to let you know where you are to go. And, when you have traveled that distance, your headlights then shine that much further down the road to let you know where to go next. It's like that with the guidance of God. We walk in what light he has given us today, knowing that as we do, there will be more light provided tomorrow!
1 John 1:7 (NIV)
We walk in the light as he is in the light.
3. When God speaks, we can know what HE is saying
Moses knew what God wanted, how He wanted it done, and when. Likewise, many times we can know what God wants done, how God wants it done, and when God wants it done.
Psalm 119:33-35
(TLB)
33-34 Just tell me what to do and I will do it, Lord. As long as I live I'll wholeheartedly obey. 35 Make me walk along the right paths, for I know how delightful they really are.
1 Corinthians 14:33 (NKJV)
God is not the author of confusion but of peace.
When God speaks, He doesn't stutter! God's will NEVER contradicts God's Word! And, God's word ALWAYS clarifies God's will!
4. When God speaks, we have an encounter with God
Moses would have been the biggest loser ever, if he had said, "This has been a wonderful experience with this burning bush. I hope it leads to an encounter with God." The burning bush WAS an encounter with God!
Likewise, when God speaks to us, though we may not yet know all that he has in mind (like the how and the when and the why ) - and though we may need to wait further on him, to discern his leading in these matters - the fact that we have had the initial word from God is, in fact, a real live encounter with God!
The WAY God speaks to us is essentially the same as how he spoke to Moses, although HOW he speaks is different.
Hebrews l:2a told us that God has spoken by his Son, and John 14:16-18 tells us that he still speaks by his Son, who dwells in us by his Holy Spirit. Today, God speaks by his Spirit through his Word, prayer, circumstances, and the Church. But the WAY God speaks is the same.
Henry Blackaby calls us to Experience God more intimately than ever, by understanding that . . .
1. God has a personal word for each of us.
2. When God speaks we can be sure it is God speaking.
3. When God speaks, we can know what God is saying.
4. When God speaks, that is an encounter with God!
The Holy Spirit gives clear directives today. God is personal. He wants to be intimately involved in your life. He will give you clear guidance for living. You may say, "That's not been my experience!" Then, I would say to you that, you need to base your understanding of God on Scripture and not just on your experience!
"I determined to learn to pray so that my experience conformed to the words of Jesus -
rather than try to make his words conform to my impoverished experience."
- Richard Foster -
April 20, 2019
"God'S INVITATION"
SERMON #5 in a sermon series on Henry Blackaby's, Experiencing God
John 14:21
(CEV)
If you love me, you will do what I have said, and my Father will love you. I will also love you and show you what I am like.
In this sermon series, we've talked about how God calls us to develop an intimate and growing love relationship with himself. How's that done?
Well, it's only possible because of God's initiative!
God took the initiative in this relationship by giving his Son to die for us at Calvary.
Romans 5:8 (CEV)
But God showed how much he loved us by having Christ die for us, even though we were sinful.
Out of appreciation for his love . . . we love God.
1 John 4:19 (NLV)
We love him because he loved us first.
And a love that properly appreciates God's love will be expressed through obedience:
John 14:15 (NIV)
"If you love me, you will obey what I command."
When a person first accepts Christ, it's a response to the love of God . . . demonstrated by Jesus through his death on the cross (to forgive our sins), and his resurrection on Easter Sunday morning (to provide for us eternal life in heaven).
Because we obey the Gospel, we come to know God personally. And, as a result, we love him more and more. And this love should also be expressed through obedience.
THAT is how we walk with God and grow in our love relationship with him!
Colossians 2:6 (NLT)
And now, just as you accepted Christ Jesus as your Lord, you must continue to live in obedience to him.
As our love is expressed through our obedience, God makes himself more fully known to us - and our love relationship with him is deepened . . . and we grow to love him even more!
OK, understanding this - when God speaks to us, what is it that that he invites us to?
1. God invites us to love Him
We respond to this invitation when we accept the fact of God's love being demonstrated to us through the Cross. The cross is a once-and-for-all statement of God's never ending love for you & me!
By his love, God's provided us with the opportunity to know him personally. We come to know him, personally, through trusting his Son, Jesus, as our Savior.Top of Form
Bottom of FormBut, having come to know him personally, he invites us to know him intimately! He invites us to know him in an intimate love relationship. God's desire is that our chief motivation, in our daily walk with him, is out of our growing love for him.
When it comes to friendships in life, who do you consider a true friend? A person who associates with you only when they need to borrow something from you, or, a person who associates with you just because they like spending time with you?
When you go to God in prayer, is it always because you need something? Or do you seek his face & his presence just because you love him? This is God's desire for us in our relationship with him!
God wants us to develop a true friendship with him. He wants us to enjoy being in his presence.
Look at the promise that Jesus makes to those who are friends of God:
John 15:15 (MSG)
"I'm no longer calling you servants because servants don't understand what their master is thinking and planning. No, I've named you friends because I've let you in on everything I've heard from the Father."
&nb
Powered by MyFlock © 2019
Banner Artwork © Copyright PRAETER DESIGN